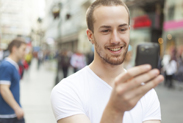 Available from the Apple App Store for the past few months, Omnivox Mobile is a huge hit with students. The application has already been downloaded by hundreds of thousands of users, placing it in the Top 10 of most downloaded applications in Education. Thousands of students have taken the time to review Omnivox Mobile and it is getting rave reviews, averaging a 5-star rating on the App Store!

Android users: it is your turn to experience Omnivox Mobile which is now available from the Google Play Store.
Our team would like to thank the users for their overwhelming response and it continues to work at improving the App for all students. A version intended for Faculty will also be made available in the months to come.